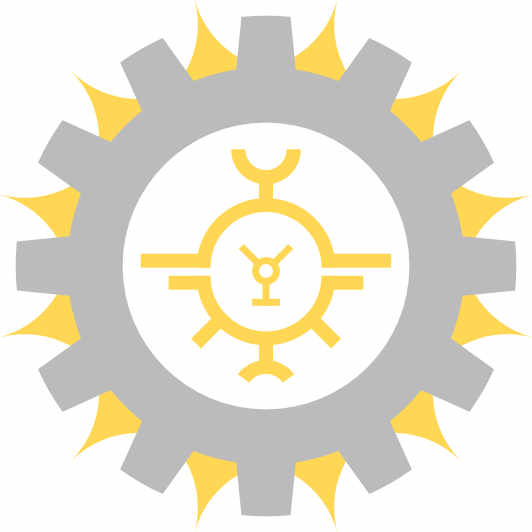 The Argent Ultima, guardians of the Calisota sector
This chapter, of Iron Hand seed & 3rd founding, is centered on the eleventh moon of Skaros, Iyalisos. Founded for the purpose of guarding the Calisota sector, they have shown little inclination of leaving the sector, and have led all campaigns there first. They were founded at the special request of the Iron Hands and the Mechanicus because of the important presence of Archeo and Xeno-tech, as well as strange tech-related phenomena within the sector. They recruit almost exclusively from the moons of Skaros Aeros and from the sector's many forge-worlds. Their symbol is a golden halo intertwined with an argent cog.
Their current organization is inspired by the iron hands, with several 100+ man Clan-companies each led by a Choir Master, a strange fusion of techmarine, chaplain and chronicler. The chapter is led by a Precentor, who leads all choir-masters in song. The rest of the chapter is led by their techmarines, known as Choir Leaders. Their main fortress is located in the Skaros system, though each Clan-company maintains another fortress elsewhere in the sector.
The organization holds an unusual reverence for the machine god, seeing the Omnissiah (and themselves) as his "children". They speak of the "Choir mechanic", a strange harmony that appears when machines are used for a common purpose in the Calisota sector, a phenomenon not seen anywhere else in the Imperium. Much like their iron hands progenitors, they have great belief in the weakness of the flesh and tend to undergo extensive cybernetic reconstruction.
They have several unique mutations that apparently only appear on humans raised in the Calisota sector. Their black carapace has several additional extrusions that behave as MIUs, allowing them to interface more naturally with machines. When they age, their bodies (regardless of implants and bionics) slowly accumulate minerals, eventually making their skin hard and metallic after several centuries. This presents as a metallic sheen of gold, bronze, silver or iron. They also lack librarians, though no-one knows why.
Their "Chapter Master", known as a Precentor, Uokar, has led the chapter for a mere few decades, since the last Chapter master died slaying the greater Everstompa Warboss. Each of the Chanters joins in battle with the master to form the symphony. It is a unique extension that they keep a large amount of servitor auxiliaries.
Oddly enough, Techmarines are frequently less cyberneticised than their companions of similar seniority. This is in part due to their leadership role within the chapter, forcing them to be more aware of the "Machine of Flesh" and the "Machine of Mind" than their brothers.
Their most heavily cybernetic members can eventually rise to being so-called Mithral Giants, with most of their limbs & body replaced by bionics, encased in chromed terminator armor and armed to go alone against thousands of foes. Some rumors claim that these giants are more similar to dreadnoughts & the legendary Thallax, little more than a nervous system & organs entirely encased in a machine.
They are unusually close to the Adeptus Mechanicus. While the chapter has managed to maintain a militant public image, the primary focus of the chapter is closely tied to the forge-world of Skaros: the seeking of archeotech. The chapter is obsessed with it, going to extreme lengths to track down a single piece of dark age technology in nearby regions, with several companies having been lost over the millennia for just such reasons. The dark age is of particular interest to them, and much of their equipment is based on dark-age findings.
them, and much of their equipment is based on dark-age findings.
Battle cry: Radiate Forth With the Light of the Omnissiah!
Destroy the dissonant!
Various terms and their uses:
Precentor: Chapter Master, leader of the choir
Choir master: Captain
Choir Leader: Techmarine
Chorist: standard tactical marine
Soloist: Assault Marine/astartes specialisazing in single combat
Crescendo: Heavy weapon marines, devastator-equivalent
Treble choir: Scout company equivalent, novice space marines
Requiem: Elite terminator squads; rather than forming a single company, there are several squads of terminators per company.